The last stop on our kitchen organization journey is the pantry. It's amazing and sometimes a little scary, what you find hiding in the back of a pantry. So, once again, take everything out of the pantry (or the cabinets that serve as your pantry) and clean it if it needs to be wiped down.
Yes, sort and purge old out-dated canned or boxed goods, stale crackers and chips or nearly- empty cereal or pasta boxes. Group and place items back in categories, such as, cereals, pasta, soups and other canned goods, dinner kits, condiments, snacks, etc. If the space is big enough and the items plentiful, you may want to place bagged snacks like chips or crackers in a clear, plastic bin or basket for better storage and accessibility. In large U or L-shaped pantries, large 18" turntables often work nicely for storing and accessing canned goods, condiments and other bottled items. If the pantry has a high ceiling and looks like it could use another shelf – add one for those infrequently used items or to store bulk paper goods, such as, paper towels, napkins, foil, wraps, etc. Use your pantry space wisely and label bins or shelves, if necessary.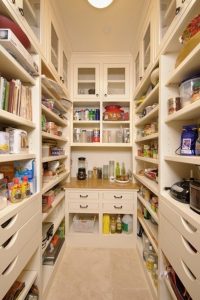 A word about buying in bulk – It is important that IF you buy in bulk, you must have the room to store it or it is not saving you anything. Your space is as valuable as your money. I have seen many people throw out food items bought in bulk, as they reached past their freshness and expiration dates. People are at the grocery so often, there is little chance of running out of things. Frequently used dry or paper goods can often be bought on sale, but may be bought in bulk and stored to save you time and money, if you really have the room to store it.
The best thing about this is once this kitchen organizing project is complete, you will really see what you have and do or do not need. It will save you money at the store not buying things you have already. It will decrease your time spent putting together a grocery list. Taking things out and putting them away will be easier for everyone and there will be space for food prep and cooking. The kitchen really is the heart of the home so schedule some time to get your heart looking and performing the way it should.
Social Share