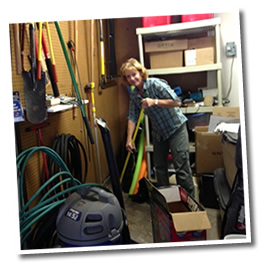 "Here is a picture of Susan in ACTION (tackling the most difficult section of my garage). Susan was able to quickly see exactly how to maximize the space. What a wonderful gift to myself!!"
Krista Allred, Carrollwood
---
"After going through a divorce, my files and paperwork were overwhelming to me. Susan Layden came over and within a few hours time helped organize my files and get rid of years of paper! I feel so much less 'buried' in paper and she showed what to keep and what to throw away. She helped me develop a system which I have been able to keep up. Susan was wonderful to work with and I will hope to have her back to help me organize my garage."
Laurie J. – Lutz
---
"After almost 5 years of a constant nightmare in our master closet and attempting to undertake this task on my own (numerous times) I finally contacted Susan. I only wish I had called her years before.
Susan was so very helpful and had great ideas to solve my space issues. Very Creative Woman!!!! She even took all of my old shoe boxes home with her to be recycled. I was embarrassed at all that I had accumulated over the years and found the task to be completely overwhelming. She did not make me feel bad, but encouraged me to work through it all, with her help.
When my husband returned home from his trip he was so happy to see that I had FINALLY made our closet something that we did not fear to enter. Packing to go on a trip is now so much easier. We take numerous cruises, golf trips and generally travel frequently during the year. Packing was always a nightmare for me. Due to Susan's help this has become so much easier for me.
Thank you again, Susan!!!!!"
Lilian B. – Wesley Chapel
---
"After spending 27 years in one home, the prospect of moving and organizing my large collection of clothes, handbags, shoes, jewelry and collectibles was completely overwhelming. I contacted Susan who promptly came to my re4scue and put me at ease. She skillfully organized and made sense out of everything, and she helped me to showcase all of it tastefully and beautifully.
The final outcome went far and above my expectations. Without her, I would still be sitting on the floor of my closet crying from stress! Amazingly, she was also able to get my husband organized, as well. She helped him to design spaces for his tools, projects, hobbies, and office, again, with beautiful results. She came in and created order out of our chaos and we cannot thank her enough."
H.S – Lakeland, FL
---
"I had 8 years' worth of business and personal paper work that needed to be filed — but the job was so overwhelming that I just kept putting it off, and of course, the more I put it off, the more overwhelming it got!  It was like a crushing burden, always on my mind.
Then I called Susan to come do an initial assessment, and when she told me that we could conquer these piles in three days,  I cried with relief — but I was skeptical.
However, Susan knows her stuff — and we did, indeed, do it all in three days!  Now I can find or file any piece of paper within 30 seconds.  Watch out world:  My "path" has been cleared – both physically and psychologically."
Leslie Neumann, Aripeka
---
"When Susan walked into our meeting room with her box of favorite organizing products, I relaxed, as her demeanor matched our telephone and email conversations.  She was prepared and professional and timely.  We had discussed a program of organizing for business professionals.
She shared ideas for us to organize our work space and time management.  Several members spoke with her after the program and her handout was useful and appropriate to our needs.  Thank you, Susan, for making time for our Rotary Club."
Lynne Morgan,
Snyder Financial Group
---
"As a single mom, working full-time as a business owner, I was overwhelmed with things at home.  Even though I am a fairly organized person I needed some expert help.  Susan looked at my situation and designed a plan which we executed together.  Now, thanks to Susan, I am enjoying a new organized home and storage building.  Her techniques and knowledge have made my life easier and more efficient.  She was a joy to work with and I look forward to working with her, again, in the future."
Tina Sommer
Lutz
---
"Susan, I wanted to thank you, again, for all your help yesterday. My husband came home and was astonished! He just stood in the pantry for 5 minutes looking at everything! He and the kids can find whatever they want. It's just great."
"Susan has made a difference in our lives.  She did an amazing job organizing our pantry and parts of our kitchen.  My husband was astonished!  He stands in the pantry and just stares at everything!  She also organized our craft room, which was quite a challenge.  It is now clear and things are easy to find.  Susan was just great to work with during both projects.  I am so glad I contacted her."
Deb P.
Wesley Chapel
---
"Susan helped me to get my rather large pantry in order.  Now, making a shopping list is so quick and easy.  I can literally, with a few quick glances, see what I need to put on my list.  For busy moms, this is such a help.  Thank you, again, SOS."
Nancy J.
Lutz
---
"Susan, thank you so much for all the help in my office.  You got so much done in a fairly short period of time.  It is so much more organized.  You really got the ball rolling for me so that now, I know what I must do to finish the job.  What a relief!  I'm sure I will be calling you, again, soon."
Debbie Jenkins
Seffner
---
"When I contacted Susan I was in desperate need of organizing help. When Susan came out to assess the situation, not only was she very knowledgeable and informative…but she also had the most incredible personality and we clicked instantly. I felt like I had known Susan forever. She was very understanding of my situation and worked with me on what I could accomplish in the time we had. The day of organizing Susan came with every product imaginable and I was very impressed. She has organizational ideas that you would never think of on your own, and she's so good and did things in a timely manner that was not confusing at all. Every second that she spent in my home she worked non-stop and explained to me what she was doing, as she went along, so she could not only help me but also teach me tips and tricks on organizing myself. I would HIGHLY recommend Susan to anyone that is looking for someone to help them get organized and will definitely use her services in the future."
Crystal V. – Westchase
---
"A chronic disease has left me progressively less energetic over the years so organizing rarely happened. As a retired CPA, this drove me a little batty, so I contacted Susan to help me organize my home office. She was invaluable in grouping subjects in my bookcases, getting rid of old & unused "stuff", knowing which financial records could be shred or archived and getting my current interests into designated zones. Now I can find my genealogy work, Tai Chi/health info, and those miscellaneous photos and memorabilia items have a home. I've gained space and feel lighter. Now I enjoy keeping my office in tiptop shape and plan to work on those writing projects that have been rolling around in my head! Thanks, Susan!"
Robbie M. – Tampa
---
"Starting my own business had many challenges. The one that surprised me most was getting organized. After a year of agonizing and being frustrated every time I walked into my home office, I decided to hire someone to get me going! It was the best decision. Susan is easy to work with, fits the plan to your personality, and is conscious of your budget. She assigned a few "get ready" tasks at the initial assessment and then we spent a day together working side-by-side. To my amazement we got the job done. I am so excited about my space that motivation is huge to keep the system intact. Her tag line is now my mantra – "End Chaos, Create Order, Find Peace". "
Monica K Tampa
---
"Susan I am slowly settling in from my move. I still have soooo much unpacking to do, but I had a goal to get my car in the garage by Dec 29 and I made it! I must say, Susan, that everything you packed was exceptionally easy to unpack. It was labeled so that I knew what was in each box. I'm sad to say I can't say the same thing about the movers. Really pitiful. Nothing labeled nor packed by rooms. I think of you often and I'm so appreciative of all the help you gave me preparing and packing for the move. You would be proud of how truly organized I am now with half the storage I had in my house. Thanks, again, for all your help and expertise!"
Sherrie B. – Texas
---
"There are times we hesitate to let someone else do what we feel we ought to be able to do for ourselves, especially if we are a busy professional or homemaker. But the fact is that some people are just better and more knowledgeable about organizing even if we consider ourselves an organized person."
"It's a fact that hiring a professional organizer is money well spent. Susan knows her business and can relieve a lot of stress from daily living by making things more handy , simpler to get to and easier to maintain. I think I am superwoman –no kidding. For years I have run an insurance agency, hired and fired employees, handled large corporate clients—and still do. So, I finally did the smart thing: delegate. And it was a mistake that I held off getting someone like Susan in to do the job with better skills and abilities than mine. Was I good at keeping my home and business running? You bet. But the stress of doing so wasn't worth the results that I could produce compared to Susan's skills and abilities. Don't wait to bring in professional organizer, Susan Layden , to your organizing job. She was my best choice! "
Betsy V – South Tampa
---
"Thanks for being such a big help at my parents' home. You really helped us get ready for the garage sale and thought of ways to organize and arrange that we would have been hard-pressed to come up with by ourselves. You were a big support to my mom. You were great at helping us close up from the garage sale in an expedient and organized fashion. It was a bit emotional for me…….Thank you, again, for providing just the extra support we needed to keep moving along with this process."
Peggy – Carrollwood
---
"I really enjoyed working with you!! We accomplished so much. You assessed the barriers to our organization, developed a plan, and worked hard to execute it. In very little time, you took what seemed to be an overwhelming task and transformed our spaces. The household now runs smoother, clean-up is easier and everyone is happier. I would happily be a reference for you. Thank you for all your help! I look in that laundry/storage room, and I'm still amazed!!"
Kristin C. – Temple Terrace
---
Susan transformed my home office from a confused mess of papers all over the place into an organized neat home office.  I love the tickler system she set up for me!  Her professionalism and warm personality made the process easy and I'm delighted with the huge difference it's made in my everyday life!
Sonia Stevenson, Carrollwood