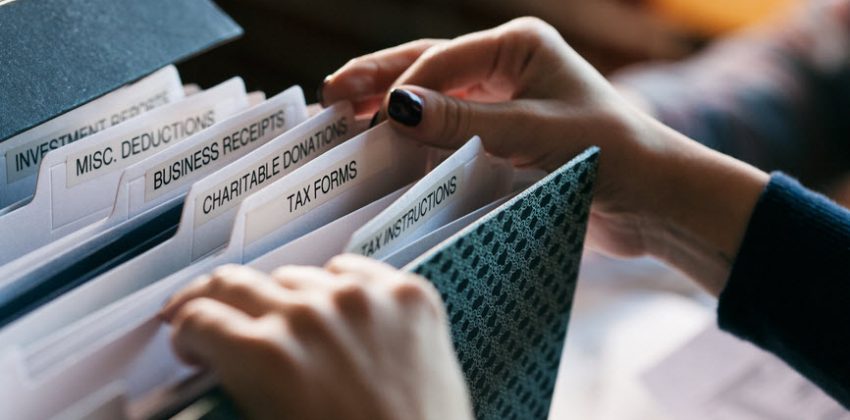 Over the past few weeks, we've been featuring ways to keep yourself sane & focused during your tax time preparations-hopefully you've whipped your box of receipts and deductible items into organized files, and now you're ready to move on to what you're going to hand over to your bookkeeper or C.P.A.  Before you do, it's important that you set up a filing system that will make it easy for those assisting you with your taxes. We thought we'd repost a valuable previous article on how to help you set up those important files for filing:
So let's be specific: once you tackle those four prior steps to organization and create a filing system, what does that system look like? We came across a great example from a Bowl Full of Lemons of how this system works. With a little preparation, you can surf through the tax season without a bat of the eye from your CPA:
The Filing System: the best suggestion is make it easy to use & available:
Place it within reach of your work area. If it's out of site, your paper will surely pile up, so placement is key! You need to make this process functional & simple, so you can file a receipt or document in a jiffy!
What Files to Make: The details need to be as specific as your deductions & records require.
Label file folders with categories that relate to your business. Yours may be different from mine. Please speak to your accountant to find out what deductions you are able to claim.

My Files are labeled: (1 Folder for each)

To File
Bank Statements
Paypal Statements
Taxes Paid
Income
Invoices
Personal Income
Contractors

Itemized Deductions: (1 Folder for each)

Advertising
Auto
College
Depreciation
Donations
Home
Legal & Professional Fees
Medical
Office Supplies
Other Expenses
Shipping Fees
Supplies
Travel
Utilities
A Binder Full of Receipts: A binder is a great suggestion for quick, easy & organized access for your records. They suggest:
Income
Invoices
Contractors
Expenses
Mileage
Receipt Pockets
End of Year Documents: An accordion file is your best friend as it relates to prepping your 1099's and other important tax documents:
Designate & label an accordion case for your end of year tax documents. When you are ready to file your taxes, place all document inside the accordion & take to your accountant. (Trust me, your accountant will thank you)…It's clearly labeled and easy for my accountant to find whatever she needs. Once my taxes are filed, I take everything out of the case and place it in a hanging folder in my filing cabinet (labeled with the year).
Stay Organized on The Run! Do you struggle with random receipts in your purse or car console? Nip that in the bud & carry a mini-file with you:
One last way to organize your taxes is with a mini accordion container. Keep it in your purse and when you make a purchase, place your receipts directly into the correct category, after you pay. It makes organizing your receipts a whole lot easier, once you get home.
More examples & tips can be found on A Bowl Full of Lemons